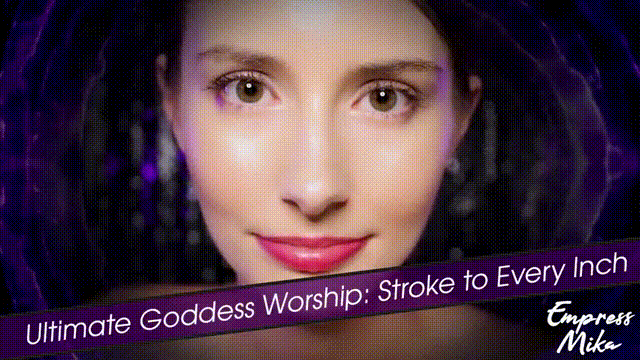 16.00
Ultimate Goddess Worship: Stroke to Every Inch
Worshiping Me feels so good, doesn't it slave? You don't simply want to worship My perfect body, you need to worship My perfect body. My slender, sexy Empress frame is perfect in every single way and, as such, it deserves to be worshiped and adored by desperate little slaves like you.
Every single inch of Me is perfection. My doe eyes, My luscious lips, My slender neck, My perky tits, My plump pussy, My round ass, My long legs, My sexy size 10 feet, every single part of Me is the essences of Goddess-like beauty. Just imagine My body and how much I turn you on. Think about how lucky you are that you get to serve, worship, and obsess over My perfectly slender curves. I am the only Goddess you will ever need to worship as no one else turns you on quite like I do.
In this clip I am going to mesmerize and encourage you to fall even deeper for Me and My perfect body. I am going to tease you to the edge with every inch of My perfection. I am going to allow you to stroke to Me as I indulge in your need for intense Goddess worship. I am going to take you on a sexy tour of all My curves and features to remind you how much you need and crave to worship Me. This clip is going to take you deeper into your submission to Me and leave you dripping with lust. I know just how desperate you are to stroke and cum to My sexy body and I promise that this experience will be just what you need to satisfy those cravings and still leave you desperate for more. Get ready, My little slave, to stroke to every inch of Me.
* This clip has been carefully crafted to create an immersive and intense visual and audio experience. I highly recommend using headphones and a dark room to fully enjoy this intense, sexy experience.
Audio-only MP3 version available here: https://iwantclips.com/store/10852/Empress-Mika/2881390
* Experience My free, full-length audio, Give in to My Voice: EmpressMika.com/free-femdom-mesmerize-audio
Website: EmpressMika.com | Twitter: @YesEmpressMika
Train to be My slave: SlaveTraining.EmpressMika.com
Your Empress commands you to use a markup code. Good boys obey.
Serve your Empress (+50%): ServeEmpress
Worship your Empress (+100%): WorshipEmpress
Be an Extra Good Boy for Empress (+200%): YesEmpressMika