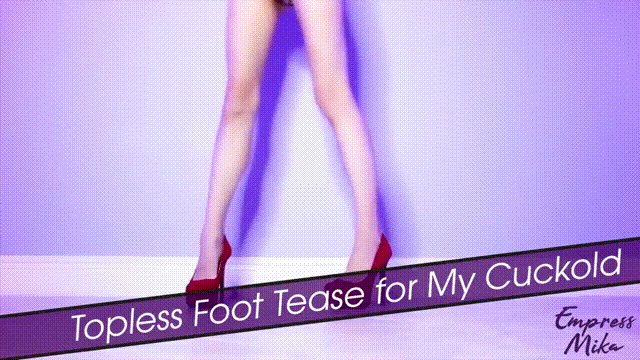 9.00
Topless Foot Tease for My Cuckold
You know, before I go fuck My Alpha, I want to take a minute to remind you of your place. I am wearing nothing but a sexy pair of panties and bright red heels. I'm not even wearing a bra! I know this is what pathetic little foot cucks like you dream about, so why don't W/we have a little fun together before I get fucked properly?! Hehe, I'm going to tease you with My perfectly sexy, slender body but you are only going to be allowed to see and worship My legs and feet. You didn't think I was going to actually let you see Me topless, did you? Of course not, you don't deserve a nice, sexy, topless tease from Me. Only real Men are allowed to truly enjoy My body, and you are anything but a real Man to Me. You are nothing to Me, but a hopeless little foot addicted cuckold bitch and I don't think you deserve anything at all.
However, I think it would be fun to make you worship My perfectly long, slender legs and sexy size 10 feet, while I deny you the view of My perfect Empress tits that you crave to see oh-so-much. I expect you to show Me just how much you appreciate My kindness with your strokes. Just the thought of being denied the pleasure of seeing Me topless should be enough to drive you crazy with lust over what you will never have, and getting to worship My legs and feet will simply be a nice little bonus treat for you. Lol!
Only My Alpha is ever allowed to enjoy My body, and I want you to remember that during every minute of this sexy little clip. My Alpha is the only one capable of bringing Me sexual pleasure, while you are only capable of amusing Me through your desperation to worship what little glimpses you get of My Goddess body. So, get ready to impress Me, little cuck, and be sure to thank Me for paying attention to you at all. I really am such a kind and thoughtful Empress.
Website: EmpressMika.com | Twitter: @YesEmpressMika
Train to be My Foot slave: FootSlave.EmpressMika.com
Your Empress commands you to use a markup code. Good boys obey.
Serve your Empress (+50%): ServeEmpress
Worship your Empress (+100%): WorshipEmpress
Be an Extra Good Boy for Empress (+200%): YesEmpressMika