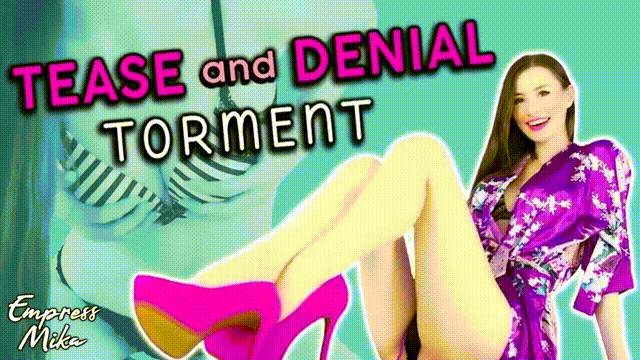 15.00
You are going to experience a whole new level of extreme tease and denial with Me. I am going to flaunt My body and give you one of the sexiest, most sensual, and irresistible teases of your life and you are going to sit there and accept the fact that you won't be allowed to cum. After all, that's just how tease and denial is supposed to work! Lol! Do you really think I would be so generous as to give you such a perfect tease and actually let you cum? Of course not, slave! You don't deserve such a sexy gift from Me. You are nothing but a gross, pathetic, disgusting little worm to Me and you will thank Me for allowing you the gift of denial while I give you a tease that only a true Alpha Male is worthy to stroke to.
You ache and crave and long to worship My sexy, flawless body each and every day. Your cock twitches simply at the thought of My perfect tits, slender legs, or supple ass. All you can think about is jerking your pathetic little cock and shooting another worthless load for Me. But I know there is something else that drives you even more crazy for Me. Tease and denial.
That's right, My hopeless little stroke slut. I know that you get even harder when I deny you any and all pleasure while teasing you like crazy with My endless curves. Being made to sit there and watch as I show off every inch of My body while you are denied the pleasures of stroking or cumming is enough to push you over the edge and deep into your submissive headspace. There's nothing I love more than fucking with your weak little mind by pushing you even deeper into submission to Me.
So get ready, submissive. This is going to be the most intense and frustrating clip of your life. You owe it to yourself, and to Me, to purchase this clip right now and accept your tease and denial. You belong to Me and you will give in to Me and do exactly as I command. And today I am commanding you to suffer and thank Me for denial while I tease you with what you will never have. I am such a kind and thoughtful Empress, aren't I?
Website: EmpressMika.com | Twitter: @YesEmpressMika
Train to be My slave: SlaveTraining.EmpressMika.com
Your Empress commands you to use a markup code. Good boys obey.
Serve your Empress (+50%): ServeEmpress
Worship your Empress (+100%): WorshipEmpress
Be an Extra Good Boy for Empress (+200%): YesEmpressMika