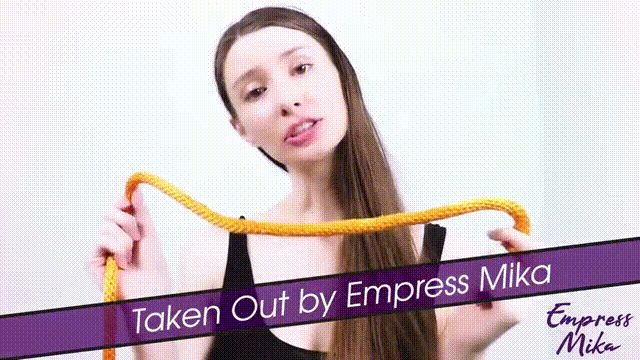 16.00
Taken Out by Empress Mika
There's no point in trying to struggle. I have those ropes tied so tightly that there is no chance you are going to escape. Face it, I have you trapped and at My mercy and there is simply no way out. Now that you fully understand the predicament that you are in, let's talk about what's going to happen to you next. Hehe
I can see that you really want Me to let you go. But do you think I'm going to just let you walk away? Of course not. I have you exactly where I want so you are going to have to work really hard to earn your freedom. How about this. You keep bragging about how strong and good at fighting you are so why don't we have another fight? Say…winner takes all? If you beat Me in a fight, I will let you walk away with no questions asked. But if I beat your weak, scrawny little ass then I get to do with you whatever I please.
So what do you say? It's not like you really have a choice in the matter, seeing as I have you all tied up. Hehe Do you really think you can beat Me this time? I may look slender and weak, but you know how much power I have packed into My muscular arms and sexy long legs. You underestimated Me once before so you know that I'm not going to hold back. As soon as this fight starts I am going to unleash My full power on you until you whimper in submission.
I really hope you're getting excited for our fight because it's going to be the last you ever have. I know I'm going to win and when I do win, I'm going to end you once and for all with My sweaty, stinky size 10 feet. I have a feeling the thought of that is only going to turn you on even more so I guess I'm actually being really nice to you. Regardless, get ready for the fight of your life…or maybe I should say the fight for your life! Lol!
Website: EmpressMika.com | Twitter: @YesEmpressMika
Train to be My Foot slave: FootSlave.EmpressMika.com
Your Empress commands you to use a markup code. Good boys obey.
Serve your Empress (+50%): ServeEmpress
Worship your Empress (+100%): WorshipEmpress
Be an Extra Good Boy for Empress (+200%): YesEmpressMika