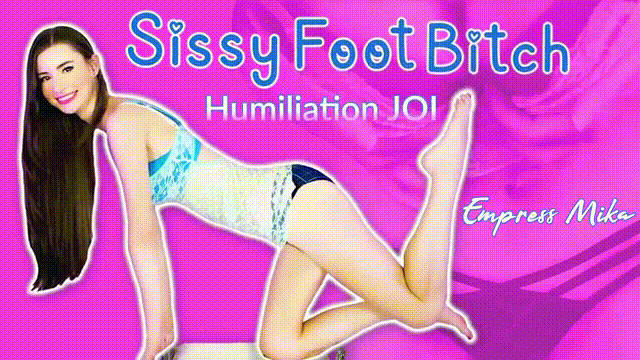 24.00
Sissy Foot Bitch Humiliation JOI
I've always known that you aren't a Real Man at all. You would rather dress up in sexy lingerie and worship My feet than fuck an actual Woman. So that's exactly how W/we are going to celebrate, sissy! Get ready to put on your sexiest pair of panties and slip on your favorite bra. I am going to remind you just why it is that you deserve to stay single from now on.
Pathetic little panty wearing sissies like you need to be humiliated, teased, and tormented by perfect Women like Me. It's what you truly deserve in life so get ready for a nice, long, painfully sexy jerk session. I'm not going to go easy on you, sissy. I know you're getting all excited just reading this, but I'm going to frustrate you to no end with My teasing to the point that I don't know if you will even be able to stay hard!
You see, I have quite a few things planned for you in this lengthy session that are going to test and see just how big of a sissy whore you truly are for My feet. I'm sure if you really are as big of a sissy foot bitch as you claim to be you won't have any issues cumming for Me when I count you down. I don't want to give away all the surprises so let's just say you might not get to see everything you want to and something may be going in your ass. Lol! Don't worry though, I promise you will be allowed to stroke and worship My perfectly slender feet as I humiliate and tease you mercilessly. After all, I'm certain that humiliation and My feet are all you really need to get off these days, right sissy? hehe
I mean, seriously, it's no surprise that your girlfriend finally dumped your little sissy ass. The only real surprise is that you ever managed to get a girlfriend in the first place! Honestly, you should be so happy to find yourself alone and single once more, because it means you can spend all your time indulging in your frilly fantasies of being My little sissy foot bitch. In fact, W/we are going to celebrate your break up together, in this very clip! *Items needed: ice pack/bag of ice.
Website: EmpressMika.com | Twitter: @YesEmpressMika
Train to be My Sissy slave: https://iwantclips.com/store/10852/Empress-Mika/2969829/
Your Empress commands you to use a markup code. Good boys obey.
Serve your Empress (+50%): ServeEmpress
Worship your Empress (+100%): WorshipEmpress
Be an Extra Good Boy for Empress (+200%): YesEmpressMika