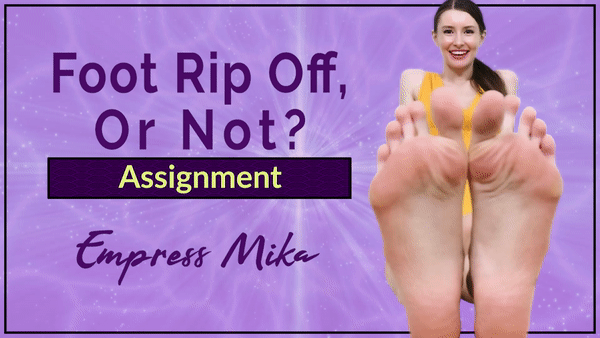 20.00
My big, powerful feet are so perfect. You know it and I know it. You have been aching for more of My foot content, haven't you? Despite Me having over 100+ foot fetish content, you want and crave even more dominance from My size 10 feet.
Do you want to properly worship My feet, hmm? To meditate on their perfection? To fall deeper and deeper into submission for My feet?
Well, guess what? I am in a teasing, playful mood. Do you think I will tease you with My feet and let you cum? Or, will you be ripped off for My feet? Although I am in a teasing mood, will you get to see anything? Will you get to release to My feet? Gosh, you're so desperate for My feet, whether or not you have a rip off fetish is irrelevant. You would do anything for the chance to worship and release for them, wouldn't you?
Go on. Purchase this for My feet, for the chance you may just receive a JOI and permission to worship and release to them. Even if you're ripped off, perhaps you will still be able to see an updated view of them? You want My feet, you need My feet, you crave My feet. Get to it, My little foot bitch.
Website: EmpressMika.com | Twitter: @YesEmpressMika
Train to be My Foot slave: FootSlave.EmpressMika.com
Your Empress commands you to use a markup code. Good boys obey.
Serve your Empress (+50%): ServeEmpress
Worship your Empress (+100%): WorshipEmpress
Be an Extra Good Boy for Empress (+200%): YesEmpressMika