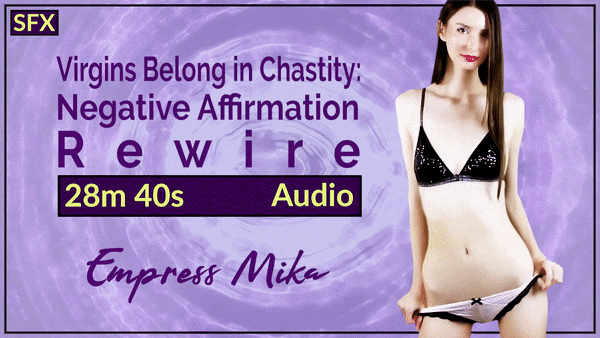 19.00
Virgins Belong in Chastity: Negative Affirmation Rewire – Audio MP3
* Free Audio Preview Below * My goodness. Look at you. You are nothing but a hopeless virgin that has never seen a naked Woman in real life! How does it feel to know that you've never seen a Woman naked and that you never will? You didn't think there was hope, did you?
Honestly, it's really time to stop putting forth any effort whatsoever into being with a Woman. You're not man enough for it. Women simply don't want you and, really, even if you got the chance, you wouldn't really be able to please them, would you? Face it. You are obviously a beta and a complete and utter failure with Women.
But! Not all hope is lost for you. All you have to do is give in to Me. Give up all that control. Serving Me will solve all of your problems. The more you give in to Me as My slave, the better you feel. That desire to have sex with Women fades away, as you become focused on your true destiny… your destiny of servitude to Me. Don't you want to be My good boy? I know you do. And, part of being My good boy is to ensure that you are locked up… Find out what happens to you, once I lock you up in this sexy, tantalizing audio.
*This audio is perfect for My virgin submissives that need to not only hear that they are a failure with Women but that they instead need to redirect their lives to one of servitude. Obviously, virgin slaves need to be locked up and after I deeply mesmerize you, it doesn't take much to convince you to be My good boy in chastity. Once you're in chastity, I tease you like crazy, until you're so desperate for release you are panting and in tears. Do you think you can cum in chastity, My virgin slave?* Audio length: 28:40
Experience this audio with an intense visual: https://iwantclips.com/store/item/2186846
Listen to a preview of this audio: EmpressMika.com/virgins-belong-in-chastity-negative-affirmation-rewire-audio-mp3/
* Experience My free, full-length audio, Give in to My Voice: EmpressMika.com/free-femdom-mesmerize-audio
Website: EmpressMika.com | Twitter: @YesEmpressMika
Train to be My slave: ChastitySlave.EmpressMika.com
Your Empress commands you to use a markup code. Good boys obey.
Serve your Empress (+50%): ServeEmpress
Worship your Empress (+100%): WorshipEmpress
Be an Extra Good Boy for Empress (+200%): YesEmpressMika