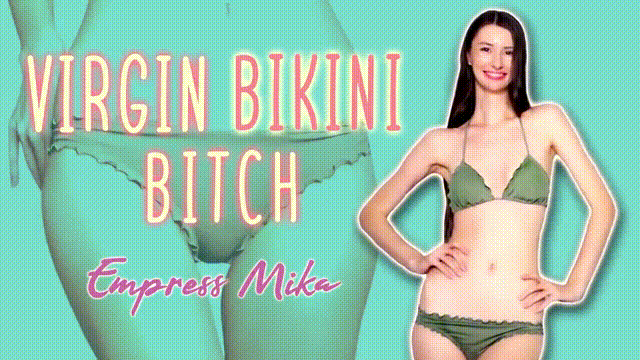 16.00
It's finally summer! Do you know what that means, My little virgin bitch? It means I need to shop for new bikinis to wear! Of course, you aren't going to get to see Me by the pool wearing them this summer. That's a view that only real Alpha Men deserve to experience. But that doesn't mean you're going to miss out entirely. In fact, I have one very important use for you this summer. As My dedicated little virgin bitch, I am going to allow you to shop with Me and purchase My bikinis for the summer! Isn't that so generous of Me?
I bet you are so excited that I'm allowing you this extra special treat. Not only do you get to purchase My bikinis like the good little virgin paypig that you are, you also get to watch as I try them on! There are so many different colors and styles to choose from and they all perfectly show off how hot and sexy I am. You really are such a lucky little virgin slave as you are going to see so many sexy views of My body as I try on all these different bikinis.
Just look at how each bikini wraps so tightly around My slender curves. They perfectly show off My flawless, sexy body; especially My perky tits, tight little ass, and plump pussy. Some of these are so tight that it leaves very little to the imagination. Even I can't stop looking at Myself in the mirror! Lol!
There are so many cute ones to choose from that I don't know how I'm going to decide which ones to make you buy. Let's see if W/we can narrow it down to just 1 bikini. It's going to be a tough challenge since literally EVERYTHING looks so good on Me. But, maybe W/we can do it? Get ready to shop, My little virgin!
Website: EmpressMika.com | Twitter: @YesEmpressMika
Train to be My slave: SlaveTraining.EmpressMika.com
Your Empress commands you to use a markup code. Good boys obey.
Serve your Empress (+50%): ServeEmpress
Worship your Empress (+100%): WorshipEmpress
Be an Extra Good Boy for Empress (+200%): YesEmpressMika