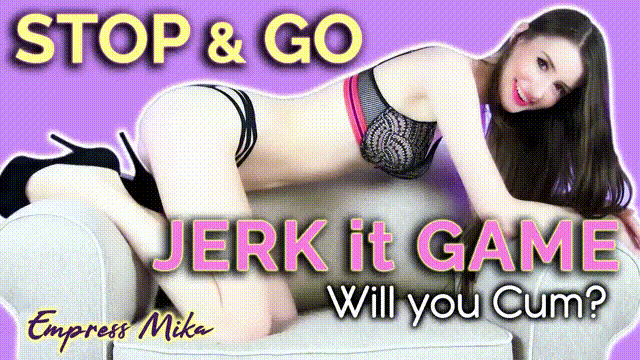 12.00
Stop & Go Jerk it Game: Will you Cum?
I know you are going to love this stop and go game, as it involves stroking your pathetic little dick to My sexy, tight little body! It is so simple that even you can understand how to play. Stop means no stroking. Go means stroke!
To make things even more exciting for you, I am going to be teasing you the entire time with My sexy, flawless body. As you are stroking, or being denied stroking, I am going to show off My silky black panties and bra. I want to drive you crazy with lust, so I am going to ensure that you are desperate and horny to stroke to My body throughout this entire clip. I know My perky tits, supple ass, plump pussy, and long legs are going to make that little dick of yours rock hard and leave you begging for release.
Of course, I am up to My usual mischief in this clip, as I am in the mood to be amused by you, and I have so much fun teasing you with My sexy body, as well as toying with you and your beta desires. There is no doubt that you are going to be desperate to cum by the end of the clip but… do you think I'm going to let you? Maybe if you're an extra good boy and follow all of My instructions, I will let you blow your sad little load for Me. Or, maybe, I want to be cruel today and leave you with a nice big pair of blue balls. LOL! There is only one way to find out what I have in store for you. Purchase this clip right now and get ready to stroke for Me, loser!
Website: EmpressMika.com | Twitter: @YesEmpressMika
Train to be My slave: SlaveTraining.EmpressMika.com
Your Empress commands you to use a markup code. Good boys obey.
Serve your Empress (+50%): ServeEmpress
Worship your Empress (+100%): WorshipEmpress
Be an Extra Good Boy for Empress (+200%): YesEmpressMika