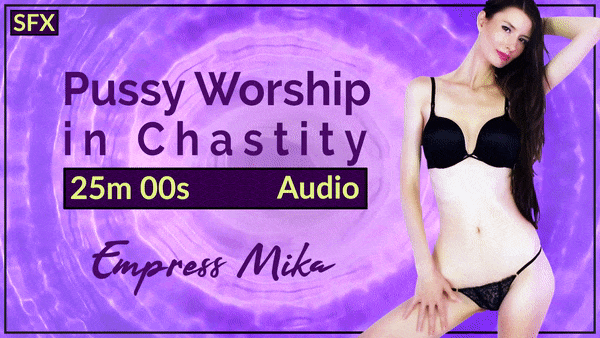 16.00
Pussy Worship in Chastity – Audio MP3
* Free Audio Preview Below * My dear chastity slave, just look at you. All locked up tightly in chastity for Me! How does that make you feel? Isn't it wonderful? I'm sure it's even more exciting to never really know when, or if, I will allow you to take off your cage! Do you think I will let you in this very session? Hmm? Hehe, well, I will just leave you there to sit and wonder!
For now, though, you will sit there, locked up and you will enjoy how I tease you. After all, it's important for My chastity slaves to experience what it's like being locked up and teased like crazy. In fact, I want you to be in a sexual frenzy, and so desperate for release that you pant and cry. Do you think we should try it? I certainly do!
Imagine the outline of My perfect pussy as it presses up against My thin, tiny panties. What you wouldn't give to taste it, lick it, and smell it. Of course, I'd never show it to you, but it is okay to imagine My pussy. It's the essence of everything that you will never have, as My chastity slave. All the details of My perfect pussy and how I will use it to tease you are detailed in this sexy, steamy audio. Be a good chastity slave and indulge with Me.
*This audio is perfect for those chastity slaves that are in chastity and want to be teased like crazy with pussy worship. At first, sitting there, locked up, and Me teasing you is pleasurable… but as the session goes on, that pleasure turns into desperation as you are so horny and wish to cum, that you want to remove your cage. Will I let you?* Audio length: 25:00
Experience this audio with an intense visual: https://iwantclips.com/store/item/2166005
* Listen to a preview of this audio: EmpressMika.com/pussy-worship-in-chastity-audio-mp3/
* Experience My free, full-length audio, Give in to My Voice: EmpressMika.com/free-femdom-mesmerize-audio
Website: EmpressMika.com | Twitter: @YesEmpressMika
Train to be My slave: ChastitySlave.EmpressMika.com
Your Empress commands you to use a markup code. Good boys obey.
Serve your Empress (+50%): ServeEmpress
Worship your Empress (+100%): WorshipEmpress
Be an Extra Good Boy for Empress (+200%): YesEmpressMika