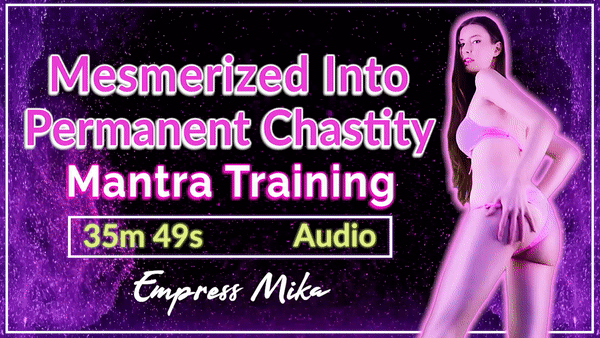 25.00
Mesmerized into Permanent Chastity Mantra Training – Audio MP3
*Free audio preview below. * I know how hard the thought of living in permanent chastity must be for a chronic little stroker like you, never knowing if I will ever let you even touch your dick again. But you know this is the life you crave and deserve. It excites you to know that I now have complete and total control over your stroking and your orgasms. Your mind will forever be desperately focused on being the best little slave possible to impress Me and hopefully one day earn a release from that tight little cage.
In order to further train your mind to accept your life as My permanent chastity slave, I have created this audio for you to listen to on a daily basis. My voice will condition your mind to accept and crave your indefinite denial. Through the use of repeating mantras, mesmerizing effects, and binaural beats, I will rewire your entire being to get turned on at the very thought of being locked away for Me. Your new pleasure is the endless, frustrating sexual denial that you will receive from Me each and every day. I will have you aching, throbbing, and begging Me for more time in your chastity cage. This experience will fully transform you into the desperate little chastity slut that I desire you to be for Me, constantly dripping with the pleasures of denial that I grant you.
Honestly, your pathetic little dick deserves to be locked tightly in chastity for Me. Your sad little orgasms serve no purpose to Me and are nothing more than a meaningless distraction keeping you from your true purpose of being My slave. You've had your fun and stroked so many times to My perfect body. Little did you know, I only allowed you to cum in order to deepen your addiction to Me and rewire your mind to only get pleasure from obeying My commands. Now that I have turned you into My property, that sad little dick of yours is never going to see the light of day again, except when I choose to let you out as an extra special treat for being a good boy.
Whether you are new to chastity or if you are a seasoned slave of Mine, this audio experience is a required purchase for you. All of My slaves and good boys should be training in chastity and you will listen to this on a daily basis, or as needed, to further condition your mind for denial. Use this experience to help you any time you are struggling to stay in chastity or simply need the encouragement from Me to remind you why your ultimate pleasure will always come from sexual denial. You deserve to be locked in chastity and it is My pleasure to endlessly tease and deny you for the rest of your life. Audio Length: 35m 49s
* Listen to a preview of this audio: Coming Soon
* Experience My free, full-length audio, Give in to My Voice: EmpressMika.com/free-femdom-mesmerize-audio
Website: EmpressMika.com | Twitter: @YesEmpressMika
Train to be My Chastity slave: ChastitySlave.EmpressMika.com
Your Empress commands you to use a markup code. Good boys obey.
Serve your Empress (+50%): ServeEmpress
Worship your Empress (+100%): WorshipEmpress
Be an Extra Good Boy for Empress (+200%): YesEmpressMika