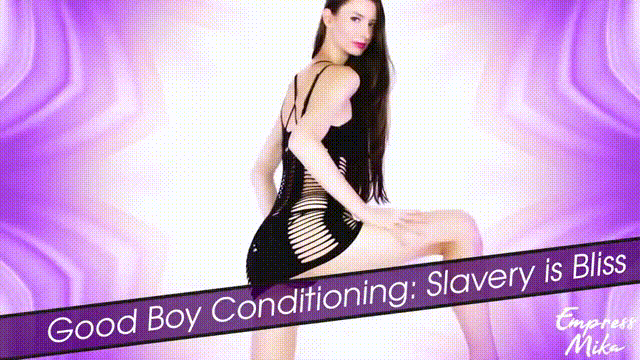 19.00
Good Boy Conditioning: Slavery is Bliss
You are so desperate to be My good boy, aren't you? Nothing makes you happier than hearing those two simple words whispered gently into your ear. Indeed, being My good boy is what you crave more than anything else in this world and it pleases Me so much to know how desperate you are to please Me. You should know by now that being My good boy is tied directly to being a good slave for Me. You cannot be one without also being the other. So, in this mesmerizing visual audio training, I am going to take you deep into your sub space and condition your mind to crave a life of slavery to Me and further turn you into My good boy.
This training is one of the deepest and most meditative experiences you will ever have with Me. Through the use of multitrack voice recording, deep binaural tones, and singing bowls, which are used in Tibetan meditation, I will guide your mind and consciousness into a deeply intimate worship experience. Everything will melt around you as you fall deeper and deeper into your own sub space. Once you are completely under My control, I will further condition the very core of your being to serve and worship Me like the slave you crave to be for Me. My sensual, heavenly voice will ring out in your mind and with each passing minute you will realize you cannot live without serving Me. Without Me, your life is meaningless and empty. You cannot exist without being My good boy.
This intense meditation experience is necessary for all My good boys and slaves as it will take you deeper into submission to Me than you ever thought possible. If you desire to deepen your addiction to being My good boy, then this session is necessary and will be transformative. It's time for you to stop wishing you were My slave. It's time for you to stop fantasizing about being My good boy. Purchase this visual audio, clear your mind, and let Me make your dreams a reality. Embrace the ecstasy of being My slave and My good boy.
* Please note this clip is a visual audio release. I have carefully crafted an immersive and intense visual to accompany the audio track featured in this content. As such, I highly recommend headphones and a dark room to fully enjoy this intense experience.
Audio-only MP3 version available here: https://iwantclips.com/store/10852/Empress-Mika/2432449
* Experience My free, full-length audio, Give in to My Voice: EmpressMika.com/free-femdom-mesmerize-audio
Website: EmpressMika.com | Twitter: @YesEmpressMika
Train to be My slave: SlaveTraining.EmpressMika.com
Your Empress commands you to use a markup code. Good boys obey.
Serve your Empress (+50%): ServeEmpress
Worship your Empress (+100%): WorshipEmpress
Be an Extra Good Boy for Empress (+200%): YesEmpressMika