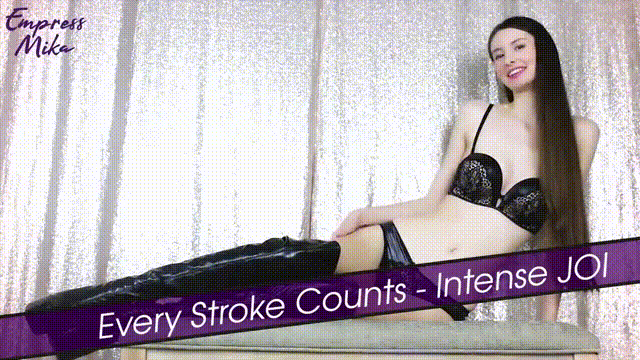 11.00
Every Stroke Counts – Intense JOI
Happy New Year's Eve, My little submissive! I think we both know the right way to ring in the new year is to spend all night worshiping and stroking to My perfectly slender, sexy body. I deserve to be worshiped and you deserve to pay for the right to stroke to My perfect curves, so that is exactly what you are going to do for Me tonight.
I've decided to be very generous in this clip so you will have My permission to stroke to My long legs, My tight little ass, and My perky tits. And, because this is such a special occasion, I'm also going to give you a cum countdown! I've even dressed up in this sexy black leather outfit to ensure your cock stays rock hard for Me as you stroke your night away to My flawless body. However, like all good things in life, you are going to have to earn your strokes!
I am going to instruct you on how fast you will stroke your cock for Me and I will be keeping track of every single stroke. For every time you stroke your dick to Me, you are going to pay Me $1. That sounds reasonable, doesn't it? You get to pleasure your cock as I tease you with My body all while experiencing the submissive bliss of serving your Goddess! Doesn't that sound like so much fun? The more you stroke, the closer you will be to cumming, and the more you will get to tribute Me! This truly is the most pleasurable win-win situation you will ever get to experience.
So get your cock and wallet ready to worship Me, purchase this clip, and prepare yourself for the most pleasurable experience of your submissive life. This truly will be the most exciting New Year's Eve for you as I count you down, and up, into 2021! Lol!
Website: EmpressMika.com | Twitter: @YesEmpressMika
Train to be My slave: SlaveTraining.EmpressMika.com
Your Empress commands you to use a markup code. Good boys obey.
Serve your Empress (+50%): ServeEmpress
Worship your Empress (+100%): WorshipEmpress
Be an Extra Good Boy for Empress (+200%): YesEmpressMika