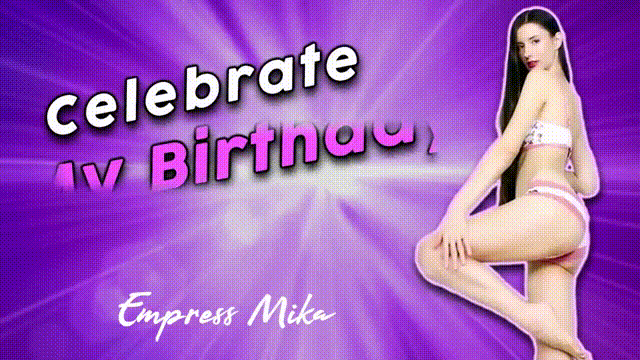 13.00
Celebrate My Birthday, slave
Today is My birthday which means it's time to celebrate Me, slave! You live your entire life desperate to please Me, so what better way could a submissive like you celebrate My birthday than to get completely lost in your worship of Me? I am going to guide you deep into mesmerizing submission as I tease you with My flawless, sexy body and remind you exactly why My birthday is the most important day of your life.
As your mind melts for Me, I will take control and compel you to dedicate yourself to Me like you never have before. I will teach you exactly how to worship Me properly on this very sacred, holy day. You will not be able to resist My voice, commands, or sexy body as I take you deeper and deeper into complete submission to Me. You owe it to Me to properly serve and worship Me on My birthday and you will do exactly as you are told, slave.
This clip is a required purchase for all of My goods boys, slaves, and submissives. Follow My instructions and prove to Me how much I truly mean to you. You will celebrate and worship Me in the way that I deserve and I will look forward to seeing how you impress Me and spoil Me on this very special day.
Website: EmpressMika.com | Twitter: @YesEmpressMika
Train to be My slave: SlaveTraining.EmpressMika.com
Your Empress commands you to use a markup code. Good boys obey.
Serve your Empress (+50%): ServeEmpress
Worship your Empress (+100%): WorshipEmpress
Be an Extra Good Boy for Empress (+200%): YesEmpressMika