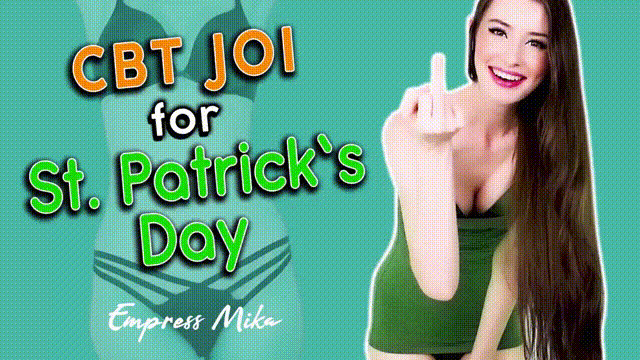 14.00
CBT JOI for St. Patrick's Day
Happy St. Patrick's Day, beta! I'm sure you don't have any plans to go out and celebrate the holiday as you would rather stay at home and jerk your sad little dick for Me, right? Well, this might come as a surprise, but that's exactly what I want you to do! That's right slave, I want you to jerk your dick for Me today! I want you to get super horny and stroke that pathetic little cock for My amusement, while I tease you with My perfectly slender body.
Just look at that silky, sexy green bra & panty set I'm wearing in this clip. Obsess over the way those panties hug My hips and barely cover My plump, tight little pussy. Look at how they highlight the curves of My perfect ass. Stroke to how that bra perfectly accentuates My perky, all natural tits. Everything about My outfit is designed to turn you on and get you so hard for Me. I want your sad little dick to stay rock hard for Me. I want you to be so desperate and horny to cum that you don't think twice and do exactly what I tell you to do.
I'm sure you are wondering why I am being so nice to you, right? Normally I would never give you such a sexy tease and encourage you to stroke your dick for Me, without there being a catch. Well, let's just say that I am going to make sure that you suffer a bit as payment for My kindness. After all, I deserve to be amused more than you deserve a pleasurable, pain free JOI, right? Of course I'm right. If you know anything about St. Patrick's Day traditions, then you will already have a good guess as to what I have in store for you. Hehe. But don't worry, beta. So long as you follow all My instructions, and jerk your dick exactly as I command, you will get to worship My body and cum for Me. You will just have to endure a little festive pain to earn your pleasure.
Website: EmpressMika.com | Twitter: @YesEmpressMika
Train to be My slave: SlaveTraining.EmpressMika.com
Your Empress commands you to use a markup code. Good boys obey.
Serve your Empress (+50%): ServeEmpress
Worship your Empress (+100%): WorshipEmpress
Be an Extra Good Boy for Empress (+200%): YesEmpressMika