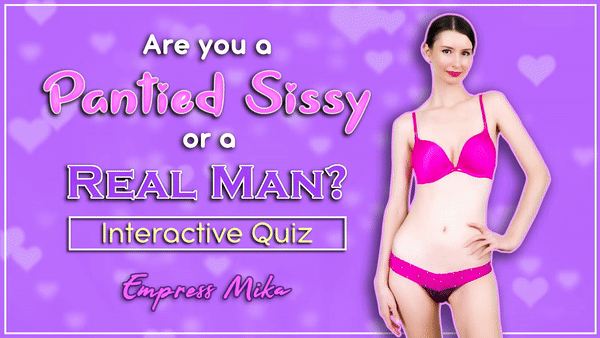 20.00
Are you a Pantied Sissy or a Real Man? (Interactive Quiz)
Are you a male who often finds himself fantasizing about wearing panties? Or maybe you are a submissive who gets all dolled up and practices servicing real cocks with a dildo? Maybe you fall somewhere in between these two extremes and simply want to know if your sissy fantasies are more than just a fantasy. Or, just maybe, you are actually a normal, Alpha Male who simply has sissy thoughts from time to time. Regardless of where you are coming from, this quiz was made for sissies and sissy curious males just like you.
I developed this quiz to help you determine with absolute certainty, whether you are a sissy, on your way to becoming a sissy, or are in fact an Alpha Male. This quiz is perfect for any male that wants to know, once and for all, whether they are a sissy. At the end of the quiz, you tally up your results and will be placed into the correct category that tells you, for certain, if you are a full-blown panty wearing sissy, more sissy than male, or a true Alpha Male.
I know many of you have lingering questions in your mind about your desires and fantasies when it comes to panties and dressing up. Don't fret. I have crafted these 20 questions within the quiz to reveal where on the sissy spectrum you fall. Are you brave enough to take this quiz and face the realities of who you truly are, deep down?
Ultimately, I hope this quiz will give you the clarity you seek. And, not only will you have an accurate result, I also will give you some honest commentary and recommendations based on whether you are a sissy, on the path to becoming a sissy or an Alpha Male. That way, you have a direction and know where to go from here. Enjoy, My potential sissy!
Website: EmpressMika.com | Twitter: @YesEmpressMika
Train to be My Sissy slave: https://iwantclips.com/store/10852/Empress-Mika/2969829/
Your Empress commands you to use a markup code. Good boys obey.
Serve your Empress (+50%): ServeEmpress
Worship your Empress (+100%): WorshipEmpress
Be an Extra Good Boy for Empress (+200%): YesEmpressMika