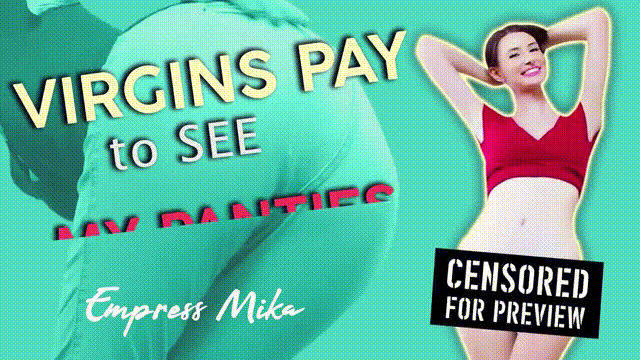 19.00
Virgins Pay to See My Panties JOI
Awww, does My poor, pathetic little virgin slave want to see his Goddess in Her cute panties again? LOL! Why does that not surprise Me?! Maybe it is because I know that a hopeless, little virgin like you is never going to know what it feels like to be with a Girl who actually wants to take Her pants off for you. So, of course, instead you are SO desperate to get even a glimpse of My sexy little panties because it is the closest to pussy that you are ever going to be allowed to see.
Virgin slaves like you are so fun and easy to control and fuck with, as you will do anything I command, just for the chance at being allowed to worship, stroke to, and see more of My flawless, sexy body. You are SO desperate to get even a glimpse of My sexy little panties that you will do anything I tell you. I know you obsess over My panties and wish so badly that you could wrap a dirty, worn pair of them around your face and inhale the sweet scent of My divine Goddess pussy and ass. But W/we both know that will never happen for you and, so, the only thing you have to live for is being allowed to see Me tease you with My panties through your computer screen, which is exactly what a virgin slave like you deserves.
But! I do not think that you should be allowed to see My panties and worship them for free, do you? No, you are My virgin slave after all and, as such, I think that you should have to pay for the honor of seeing your Goddess undress in front of you to reveal the sexy panties I am wearing beneath these tight jeans.
You must be getting so excited right now just thinking about what type of panties I might be wearing. What color could they be? Am I wearing a pair of shiny, satin full back panties? Maybe I'm wearing a cute pair of lacy hip huggers? Or, possibly, could I be wearing an extra sexy, tiny little thong that barely covers My divine pussy and ass? The possibilities are endless and I guarantee that you will not be disappointed by the sexy strip tease I have in store for you. I bet your dick is already starting to get hard with anticipation as you begin to feel the desperation and need to pay Me to find out what panties you will get to worship today.
I should warn you though, I am feeling a little mischievous, so I might have a surprise or two in store for you. Don't worry though, I promise if you pay you will get to see Me peel off My jeans and top to reveal My sexy bra & panties. I will even let you stroke to them and possibly cum! However, I do especially love toying with and tormenting My virgin slaves, almost as much as I love making them pay. So, this is going to be the perfect panty tease for you, My little virgin slave. Get to it, and purchase this clip to see My panties!
Website: EmpressMika.com | Twitter: @YesEmpressMika
Train to be My slave: SlaveTraining.EmpressMika.com
Your Empress commands you to use a markup code. Good boys obey.
Serve your Empress (+50%): ServeEmpress
Worship your Empress (+100%): WorshipEmpress
Be an Extra Good Boy for Empress (+200%): YesEmpressMika