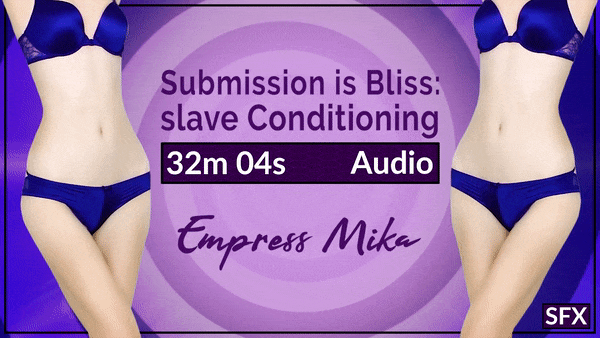 22.00
Submission is Bliss: slave Conditioning – Audio MP3
* Free Audio Preview Below * Submission is bliss. This simple truth should be obvious to you by now, My dear submissive. The only real happiness you are able to achieve and enjoy in your life is the ecstasy you experience when you are submitting to Me. Nothing else compares to that feeling of excitement that builds up in your chest when you are being My good little slave.
An important part of being My slave is understanding that you can, and should, always do more for Me. You can fall deeper into submission to Me and you can train your mind to embrace slavery to Me, even more than you already do. With this in mind, I have carefully crafted this mesmerizing, sensual, mind melting audio experience to take you even deeper into submission to Me, your Empress.
Through the use of looping words, suggestive phrases, and repeating slave mantras I will condition your weak little mind to crave the endless pleasures of being My slave. My sweet, sensual voice is accompanied by binaural beats, meditative drones, and looping sounds to firmly implant My pleasurable truths deep into your mind. I will reduce you to nothing more than a mindless little drone for Me. The experience will leave you eager and dripping with desire to worship Me and dedicate your life to My happiness.
It doesn't matter if you are an aspiring submissive of Mine, one of My dedicated life slaves, or anything in between. If you have any desire to serve and worship Me you will purchase this audio to condition your mind to embrace your life of slavery to Me. Set aside time to listen to this audio at least once per week to meditate on My perfection and clear your mind of all those unnecessary thoughts that are not focused on serving Me. You can and you will become a better slave for Me. It's what W/we both deserve. ^_^ Audio length: 32:04
Experience this audio with an intense visual: https://iwantclips.com/store/item/2733763
* Listen to a preview of this audio: https://empressmika.com/store/submission-is-bliss-slave-conditioning-audio-mp3/
* Experience My free, full-length audio, Give in to My Voice: EmpressMika.com/free-femdom-mesmerize-audio
Website: EmpressMika.com | Twitter: @YesEmpressMika
Train to be My slave: SlaveTraining.EmpressMika.com
Your Empress commands you to use a markup code. Good boys obey.
Serve your Empress (+50%): ServeEmpress
Worship your Empress (+100%): WorshipEmpress
Be an Extra Good Boy for Empress (+200%): YesEmpressMika