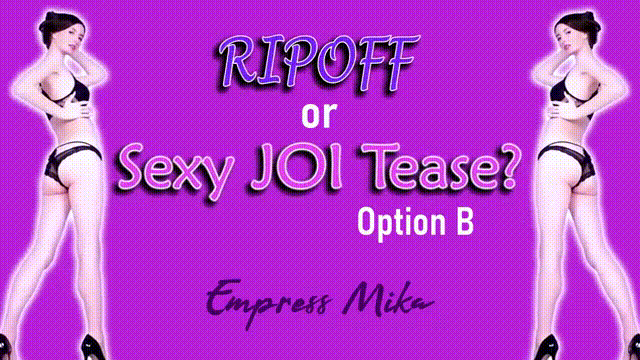 15.00
Ripoff or Sexy JOI Tease? Option B
Are you ready to test your luck, My little slave? You are always so desperate and eager at the chance of getting to stroke and cum to My flawless body. Just look at how sexy I am in that preview. Teasing you with My endless curves in nothing but My bra & panties. You must be getting so excited and hard as you gaze upon My perfection through your computer screen. I just love it when your mind begins to melt in desperation for My body. It's so easy to tease and torment you, which always brings Me so much joy.
I have created 2 different clips for you to purchase so you have twice as many chances to try your luck to see if you will be rewarded by Me today. One of these clips might contain the sexy JOI tease that you crave so much. One of these clips might be a complete ripoff. Or, possibly, both clips might be ripoffs or sexy JOI teases! As you can see, there's no telling what I have in store for you and there's only one way to find out if you're going to get lucky today.
Regardless, even if you are ripped off, you'll at least be able to get a glimpse of My slender curves in that sexy lingerie. Don't think too hard, give in to Me and purchase option A, B, or both. If you're a truly good boy, you will purchase both as I command. Good luck, beta!
Purchase option A here: https://iwantclips.com/store/10852/Empress-Mika/3431382
Website: EmpressMika.com | Twitter: @YesEmpressMika
Train to be My slave: SlaveTraining.EmpressMika.com
Your Empress commands you to use a markup code. Good boys obey.
Serve your Empress (+50%): ServeEmpress
Worship your Empress (+100%): WorshipEmpress
Be an Extra Good Boy for Empress (+200%): YesEmpressMika