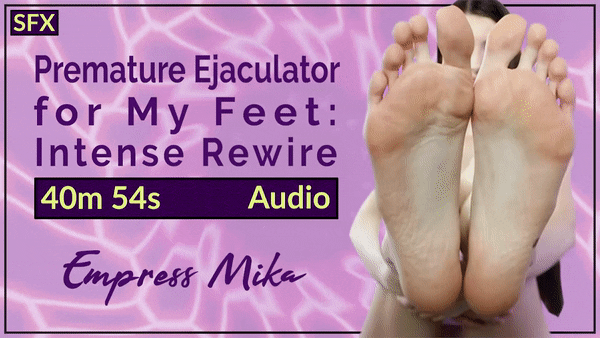 28.00
Premature Ejaculator for My Feet: Intense Rewire – Audio MP3
* Free Audio Preview Below * This audio is perfect for those submissives who desire to not only deeply immerse themselves in their foot fetish to My long, slender and sexy size 10 feet but also crave to allow Me to take full control of their mind to permanently rewire their brain to love My feet that much more. So much so, that you will do anything for them… including cumming prematurely. Indeed, My feet are just that powerful, and all you have to do is listen and give in.*
My feet are so big, so powerful, so gorgeous, and so sexy. Just look at the photo of this very audio and picture them seductively swaying back and forth. You are on your knees and I am comfortably seated, as though I am a Queen on her throne. Perhaps you don't know it, yet, but you will do anything for My feet. Just look at you, you can't take your eyes off of My feet, can you? Hehe.
I am going to guide you into falling deeper than ever for My feet. You think you have a foot fetish now, but just wait until after this session. You will be so overwhelmed with love for My feet, you are going to wonder how you ever truly lived without them at this point. You love for My feet is beyond lust, it's something deeper and truly meaningful, isn't it?
And in this vulnerable subspace you're in, completely vulnerable to Me and My feet, this is where I will easily guide you into doing anything for My feet. Specifically, cumming prematurely for My feet. Just imagine the sweet bliss of cumming quickly whenever I want you to, or whenever you need to. One thought of My feet is all it will take. Are you ready for this live changing experience?
Experience this audio with an intense visual:
https://iwantclips.com/store/10852/Empress-Mika/2136269
* Listen to a preview of this audio:https://empressmika.com/store/premature-ejaculator-for-my-feet-intense-rewire/
* Experience My free, full-length audio, Give in to My Voice: EmpressMika.com/free-femdom-mesmerize-audio
Website: EmpressMika.com | Twitter: @YesEmpressMika
Train to be My slave: SlaveTraining.EmpressMika.com
Your Empress commands you to use a markup code. Good boys obey.
Serve your Empress (+50%): ServeEmpress
Worship your Empress (+100%): WorshipEmpress
Be an Extra Good Boy for Empress (+200%): YesEmpressMika