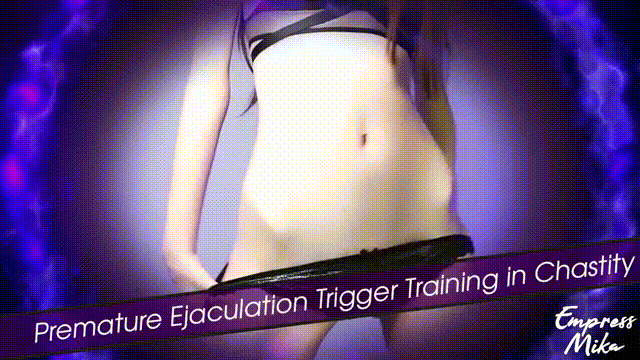 40.00
Premature Ejaculation Trigger Training in Chastity
You will never experience chastity in the same way again, after you complete this intense, 3-part training series. No longer will you be a newbie submissive, who locks himself up in chastity until you simply can't take it anymore and have to orgasm. No longer will you waste precious time begging desperately for release or thinking about when your next release will be. This audio will complete you as a chastity slave, as I am going to train you how to have a quick, functional, pleasure-free, and biological release on My command. You will be overwhelmed with how good real chastity feels once you begin to forget all the pleasurable orgasms you will never experience again.
In Part 1 I will begin by teasing you with My pussy, all while you're locked tightly in your chastity cage. It is the most intense pussy worship session W/we have ever had together. You are going to be so turned on and in such a sexual frenzy, that I'm sure it will be easy for you to pass My test for you to move on to part 2 of the training.
Part 2 will continue your training, as I guide you through the motions of how you will achieve your quick release. Just think about how good it's going to feel to fully let go of all those expectations of how you should have an orgasm. How long you should last, when the right time is, and all other stress will fade away as I take control. How should you grip your desperate, aching, throbbing cock that's been locked in chastity? Will you really be able to feel the pleasure of stroking your dick up and down, on My command? You will practice exactly how I want you to use your cock to achieve that premature release. If you pass the intense test at the end of this lesson, you will be allowed to move on to part 3.
Part 3 will, of course, be the climax of your training and combines the lessons you learned in parts 1 and 2. Here, you will train and practice to be My premature ejaculator with a very special trigger. Every time you hear that trigger, your body will naturally and easily fall into a quick, biological release for Me. Obedience to Me feels so good, and it will never feel better than in this session. If you are able to complete this training and pass all of My tests, you will finally become a deeply fulfilled chastity slave to Me as My premature ejaculator. I can't wait!
* Please note this clip is a visual audio release. I have carefully crafted an immersive and intense visual to accompany the audio track featured in this content. As such, I highly recommend headphones and a dark room to fully enjoy this intense experience.
Audio-only MP3 version available here: https://iwantclips.com/store/10852/Empress-Mika/2654392
* Experience My free, full-length audio, Give in to My Voice:
EmpressMika.com/free-femdom-mesmerize-audio
Website: EmpressMika.com | Twitter: @YesEmpressMika
Train to be My Chastity slave: ChastitySlave.EmpressMika.com
Your Empress commands you to use a markup code. Good boys obey.
Serve your Empress (+50%): ServeEmpress
Worship your Empress (+100%): WorshipEmpress
Be an Extra Good Boy for Empress (+200%): YesEmpressMika