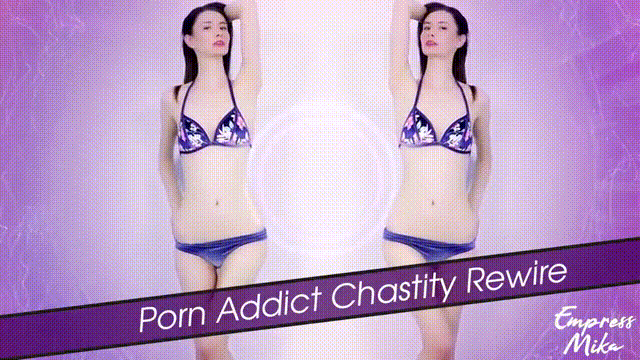 22.00
Porn Addict Chastity Rewire
Welcome, slave, to your porn addict chastity rewire. This is going to change the way you view and experience porn forever. Your mind is about to be altered permanently for My purposes.
You will ache. You will become desperate. You will be horny. You will become so much more obsessed. You will re-dedicate yourself to chastity for Me, your Empress. You will be a dripping, whimpering, sobbing mess. But it will feel so good.
All you have to do is close your eyes and listen to My beautiful, sensual, powerful voice. With each passing second, you will become more and more relaxed under My guidance. Slowly, My words will alter your focus, until it becomes more and more narrow until, finally, your focus is only on Me. This feels so good, doesn't it? Listen to My voice and experience these sounds and sensations for a few moments, and allow these feelings to wash over your body completely as I take over your mind.
Within this training, there are 4 incredible and life-altering rules that you must follow from here on out. You will never watch porn the same way again. You will never experience porn the same way again. You will fully indulge in each and every 1 of these enticing rules with Me. So much so, that after the training, your mind permanently and naturally gravitates towards them automatically. Let's begin, beta.
* Please note this clip is a visual audio release. I have carefully crafted an immersive and intense visual to accompany the audio track featured in this content. As such, I highly recommend headphones and a dark room to fully enjoy this intense experience.
Audio-only MP3 version available here: iwantclips.com/store/10852/Empress-Mika/2218458
* Experience My free, full-length audio, Give in to My Voice: EmpressMika.com/free-femdom-mesmerize-audio
Website: EmpressMika.com | Twitter: @YesEmpressMika
Train to be My slave: ChastitySlave.EmpressMika.com
Your Empress commands you to use a markup code. Good boys obey.
Serve your Empress (+50%): ServeEmpress
Worship your Empress (+100%): WorshipEmpress
Be an Extra Good Boy for Empress (+200%): YesEmpressMika