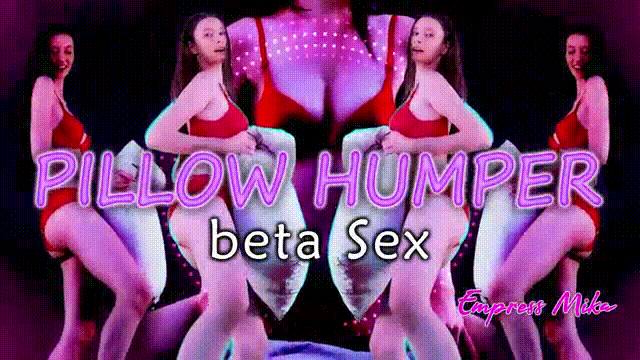 19.00
Your beta sex life is nothing more than fucking your hand night after night after night. I'm sure by this point all the sexual pleasures you experience from your sad little jerk off rituals have become routine. You crave to experience a truly intimate type of sex that you have always been denied. You crave to have a lover that you can love, caress, kiss, hold and, of course, fuck properly.
You must also be so horny and frustrated that you haven't been allowed to cum in so long. It feels like it's been ages since your last release as I take great pleasure in denying you your sad little jerk sessions. Beta slaves like you deserve to suffer endless denial, after all. However, I'm not a completely heartless Empress. I know that even slaves need to cum…eventually. So, considering you are craving so badly the sweet feeling of release after going so long without it, I'm going to finally grant your wish in this very clip.
That's right, slave. You are going to cum for Me today. Isn't that so exciting to hear? For once you are going to be guaranteed an orgasm!! I know that a pathetic little beta like you hasn't experienced sex with a real Woman, or it's been so long that you barely remember it, and you are craving that deeper, more intense form of intimacy and release. Lucky for you, I know how to solve both of your problems.
You see, you've had the perfect lover right next to you for all these years that you have been jerking your life away. This lover has faithfully stayed by your side and has always held your head at night when you were feeling down. This lover is silky soft and ready to take your cum anytime and anywhere that you want. In case you haven't figured it out yet, I'm of course talking about your pillow! LOL
That's right, slave, today you are going to fuck your pillow for Me! I am going to give you detailed instructions on how to properly treat and fuck your fluffy new lover for the most intensely intimate sexual experience of your sad little beta life. You are not simply going to hump your lover, you are going to first show them a good time. Trust Me, once you experience this visual audio you will finally know how good it feels to have a lover you can properly pleasure and I know your orgasm is going to be so much more intense than ever before. So prepare yourself beta, I hope your stamina is high as you are going to be putting in all the effort to earn your orgasm today. Lol!
*This clip has been carefully crafted to create an immersive and intense visual and audio experience. I highly recommend using headphones and a dark room to fully enjoy this intense, sexy experience.
Audio-only MP3 version available here:https://iwantclips.com/store/10852/Empress-Mika/3386841
Website: EmpressMika.com | Twitter: @YesEmpressMika
Train to be My slave: SlaveTraining.EmpressMika.com
Your Empress commands you to use a markup code. Good boys obey.
Serve your Empress (+50%): ServeEmpress
Worship your Empress (+100%): WorshipEmpress
Be an Extra Good Boy for Empress (+200%): YesEmpressMika