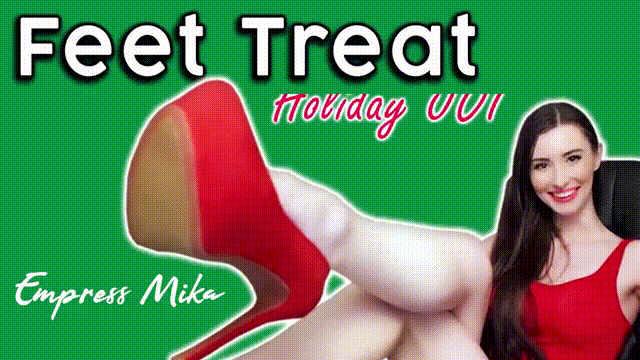 14.00
Happy Holidays, to all of My dedicated little foot bitches! You can't help yourself, can you? You simply obsess over My long, slender, sexy feet. You wish you could bury your nose deep inside the cracks between My perfect toes and inhale all that sweaty goodness that builds up throughout the day. You wish you could lick up all the filth from My heels all the way up to the tips of My toes. You are such a pathetic and gross little foot addict. It makes Me so happy to know how desperate you are to worship and spoil My feet.
I am going to use your desperation for My feet to My advantage this Holiday season. Yes, I am going to indulge you and allow you the gift of stroking to My slender, sweaty feet and heels, but you are also going to give back to My feet in the way that I command. After all, it's not fair for you to be the only one getting a Holiday gift. No, you are going to have to earn the right to stroke and worship My feet this season.
I mean, really, you didn't think I would forget to give you a nice little holiday treat, did you? No, I didn't forget about you little foot sluts. In fact, I have an extra special little JOI prepared for you to enjoy that is going to allow you to show Me just how dedicated you are to worshiping and serving My perfect size 10 feet.
I am going to tease and torment you by first hiding My feet in these sexy and festive red high heels. But don't worry, you are going to get the gift of seeing My bare feet soon enough. But first, I am going to tease you with a little dangling before I slowly remove My heels to reveal the smelly treat I know you are craving this Holiday season.
So get ready, My little foot slut. You are going to prove to Me how much you crave to worship and spoil My feet. It's only fair that you give to My feet before you receive the JOI that you crave so much. hehe
Website: EmpressMika.com | Twitter: @YesEmpressMika
Train to be My Foot slave: FootSlave.EmpressMika.com
Your Empress commands you to use a markup code. Good boys obey.
Serve your Empress (+50%): ServeEmpress
Worship your Empress (+100%): WorshipEmpress
Be an Extra Good Boy for Empress (+200%): YesEmpressMika