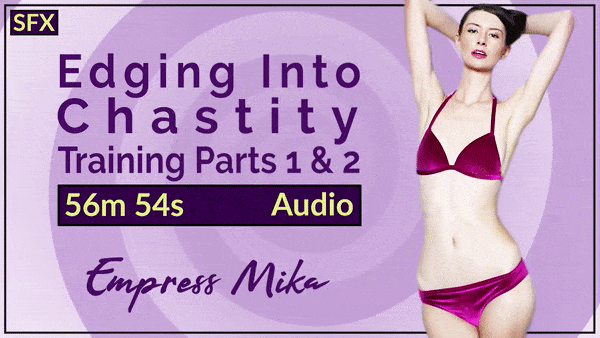 40.00
Edging Into Chastity Training Parts 1 & 2 – Audio MP3
* Free Preview Below * This audio is perfect for those chastity slaves that are incredibly horny and extremely desperate to stroke and release for Me. I harness these feelings you have and then provide some much needed chastity slave training. There is a lot of edging, and it is in this vulnerable sub space that I rewire and implant the subliminal messages that will take you deeper into your chastity fetish than you ever have gone before. Ultimately, you will obtain a mental and physical pleasure that is much, much greater than release. *
I am pleased you have decided to embark on this very special chastity slave training journey with Me, in this series. This audio is going to train you to take your servitude to Me to the next level, within a chastity context. This is very important and very real, for anyone that is taking chastity seriously.
In part 1 it all starts with first exploring and indulging in how desperate you are for release. Look at how hard you are! It is through this experience that you will discover chastity, yourself, and your servitude in a way you never have before. Trigger words and cues are given so you will know exactly what to do, as your physical body goes through pleasurable motions that teach your subconscious mind very important truths. I speak directly to you, rewiring your mind effortlessly, and I end up giving you a pleasure that's greater than any orgasm.
For part 2 I will give you the opportunity and deeply rewarding experience of being able to practice everything you learned from part one of the chastity slave training. You should recognize many of the familiar, same cues and trigger words that were implanted in your mind before. However, this time there are even more lessons that will seamlessly drift into your subconsciousness.
Open your mind to it. Edge. Submit. This is the training practice that you were so desperately craving. Empress knows what is best and, deep down, you know that this is exactly what a chastity slave like you deserves. It is a gift to be able to experience this. Now, show Me what a good boy you are. Are you ready slave?
* Listen to a preview of this audio:
Part 1: EmpressMika.com/store/edging-into-chastity-training-part-1
Part 2: EmpressMika.com/store/edging-into-chastity-training-part-2
Website: EmpressMika.com | Twitter: @YesEmpressMika
Train to be My Chastity slave: ChastitySlave.EmpressMika.com
Your Empress commands you to use a markup code. Good boys obey.
Serve your Empress (+50%): ServeEmpress
Worship your Empress (+100%): WorshipEmpress
Be an Extra Good Boy for Empress (+200%): YesEmpressMika