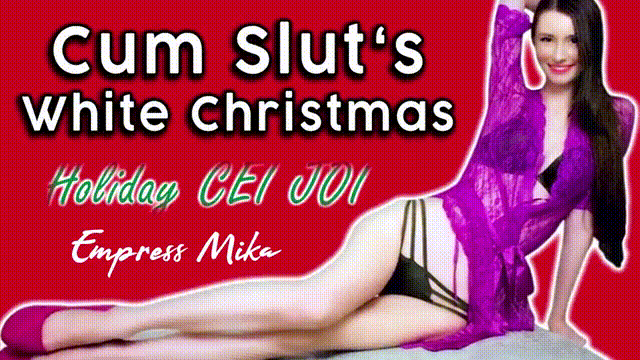 12.00
Cum Slut's White Christmas: Holiday CEI JOI
Happy holidays, My little cum eating slut! I know you are desperate to jerk your pathetic little dick to My flawless body and produce a hot and sticky load to eat for My amusement. So, you are going to show Me just how much I turn you on and how big of a cum slut you truly are. I am going to allow you to stroke and cum to My perfect body and you are going to produce the biggest load ever to thank Me for this treat. You say you love eating cum for Me and you are going to prove it to Me, in this very clip. In fact, W/we are going to take things one step further and really stimulate your body for ultimate cum producing pleasure. As you are stroking to My body, I will also be instructing you to finger your ass to really get you turned on.
Just look at how sexy I am in this clip! I'm wearing some cute pink lingerie and high heels. My sexy and shiny bra and panties are a festive Christmas green. I'm giving you amazing views of My long legs, tight little ass, perky all natural tits, and perfect pussy. Gosh, maybe I'm being too nice to you! But I'm only being nice for a very specific reason. You see, I want you to be so turned on that you blow the biggest load possible for Me! I want you to produce so much cum that you are simply overwhelmed by how much of it you are going to have to lick up for Me. hehe
The pleasure you are going to experience in this clip will be intense and overwhelming. It might be too intense for you to keep up with but you will follow all of My instructions and do exactly as you are told. Considering it is the holiday season, I am being nice to you and indulging in your gross little fantasies as a Christmas gift. I am a kind Empress, after all, so get ready for an extra special holiday treat! Don't you dare disobey Me by chickening out when it comes time to finally eat your disgusting little worship puddle. I am giving you the gift of being My Christmas cum eater, and you will thank Me for this pleasure. Purchase this clip now, cum slut, and get ready to enjoy a cum whore's version of a white Christmas. LOL!
Website: EmpressMika.com | Twitter: @YesEmpressMika
Train to be My slave: SlaveTraining.EmpressMika.com
Your Empress commands you to use a markup code. Good boys obey.
Serve your Empress (+50%): ServeEmpress
Worship your Empress (+100%): WorshipEmpress
Be an Extra Good Boy for Empress (+200%): YesEmpressMika