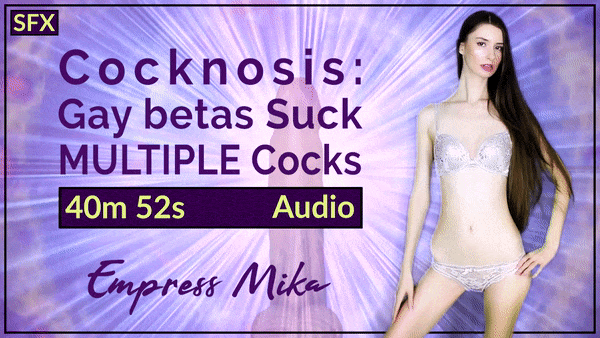 28.00
Cocknosis: Gay betas Suck MULTIPLE Cocks – Audio MP3
* Free Audio Preview Below * * This is, without a doubt, the most intense and explicitly detailed gay mental rewiring session I have ever created. I hope you are prepared. *
You cannot get your mind off of dick, now can you? You seek to become a more dedicated gay slave for Me, don't you? I'm pleased to hear it. And, I completely agree. You being My gay beta slave is exactly what is right for you. It feels right… because it is right.
For this intense audio session, you will first need to relax. I will guide you deep into your subspace with a series of countdowns to serve as your induction. All hesitation, all stress, all worries, absolutely everything will melt away. Soon, it will be just Me and you. It is here that you will able to embrace your true self and fully transform into My gay beta slave.
Feel your desire to be gay for Me grow with each passing second. Feel your desire to suck dick for Me become insatiable as your mouth waters at just hearing the word "dick". Feel your desire for big, thick, juicy alpha cock take over all the other thoughts in your mind. You want cock so bad, don't you? Thinking of all that juicy cock feels so good, as you begin to indulge in how gay you truly are. But, I did tell you that I want you to be more gay than ever before. And, that is only possible with the REAL, mind altering change of *COCKNOSIS*.
Through the use of My voice and powerful mental suggestion you are going to have cock on your mind every second of every day. You will not feel whole until you have MULTIPLE cocks in your mouth at the same time. So be warned, My gay submissive, after experiencing this training your mind will never be the same ever again. Let's begin.
* You crave cock, and seek to indulge in just how gay you truly are. I don't think you have discovered the depths of how gay you are, but you will in this very session. After all, so many of My submissive claim to be gay… but, how gay are you really? How far are you willing to go as a gay beta slave? No matter what your perceived limitations are, you are going to experience what it is like to be more gay than you ever thoguht possible. You will experience a very EXPLICIT session in which you, as My gay beta slave, are insturcted in tantalizing detail to suck multiple big, thick, juicy alpha cocks, all while I mesmerize you into a deep state of cocknosis. Soon you will be thinking of nothing but dick after dick after dick… Open wide, slave! * Audio length: 40:52
Experience this audio with an intense visual: https://iwantclips.com/store/item/2177764
* Listen to a preview of this audio: EmpressMika.com/cocknosis-gay-betas-suck-multiple-cocks-audio-mp3/
* Experience My free, full-length audio, Give in to My Voice: EmpressMika.com/free-femdom-mesmerize-audio
Website: EmpressMika.com | Twitter: @YesEmpressMika
Train to be My Gay slave: GaySlave.EmpressMika.com
Your Empress commands you to use a markup code. Good boys obey.
Serve your Empress (+50%): ServeEmpress
Worship your Empress (+100%): WorshipEmpress
Be an Extra Good Boy for Empress (+200%): YesEmpressMika