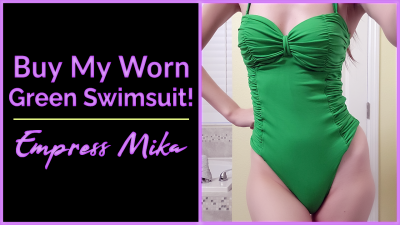 125.00
Buy My Worn Green One Piece Swimsuit!
I know so many of you hopeless little submissives are completely obsessed with My perfect swimsuit body. So much so that you crave to worship the very suits that cling to Me while I tease you like crazy. Because of this, I have decided to allow you betas the honor of buying My worn old swimsuits so that you can deepen your addiction to Me.
This listing is extra special as I rarely sell one piece swimsuits like this one. I have spent so much time lounging by My pool in this bright green one piece that it practically molds itself to My perfect curves now. It has had plenty of time to soak up My scent and still smells of all the hours spent relaxing in the sun. This sexy green swimsuit truly is the perfect item to worship for any submissive craving closer contact with Me. So don't resist, indulge in your cravings and purchase it before another sub does. It won't be available for long!
*Purchase a custom audio instructing you how to worship My worn swimsuit here: CustomAudio.EmpressMika.com
*Packaging is discreet and looks like a normal package.
*Tribute $50 for faster, expedited shipping (USA Only).
* Non-USA Shipping Addresses will require an additional tribute. Contact Me with your shipping city and country for the cost.
After purchase, make sure to contact Me, otherwise I will be unable to send you My swimsuit. If it has been over 7 days since your purchase, I will re-list them for sale with the assumption you are no longer interested in obtaining it: Contact.EmpressMika.com
Be sure to check out My full selection of items here: EmpressMika.com/store/worn-clothing/
Website: EmpressMika.com | Twitter: @YesEmpressMika
Train to be My slave: SlaveTraining.EmpressMika.com
Your Empress commands you to use a markup code. Good boys obey.
Serve your Empress (+50%): ServeEmpress
Worship your Empress (+100%): WorshipEmpress
Be an Extra Good Boy for Empress (+200%): YesEmpressMika