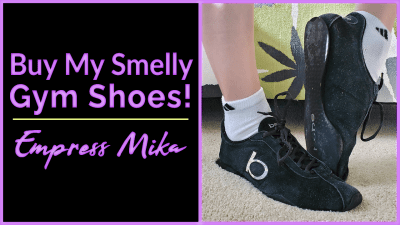 115.00
Buy My Extra Sweaty Worn Gym Shoes!
I know so many of you submissives are addicted to My perfect size 10 feet and many of you dream of worshiping anything that they touch. That is why I have decided to give you lucky little foot bitches the opportunity to purchase some of My dirty, worn old shoes!!
This is an extra special listing for an extremely worn pair of My old gym shoes! That's right My little foot bitches, I am selling a pair of My sweatiest and smelliest old shoes! These black gym shoes have seen a lot of foot time since I work out regularly and they have soaked up so much sweat in that time that they now reek of My divinely pungent foot aroma. I have worn them so much, in fact, that the soles of the shoes are almost worn through in spots!
These shoes truly are what pathetic little foot addicts should dream of worshiping and you won't be disappointed with how disgusting and smelly they are. It should also be mentioned that I do not get rid of My gym shoes very often, so this is an extra rare treat for you slaves to indulge in! Be sure to buy these shoes while you can because it might be some time before another pair of My perfectly seasoned sneakers are available to purchase.
*Purchase a custom audio instructing you how to worship My sweaty socks here: CustomAudio.EmpressMika.com
*Packaging is discreet and looks like a normal package.
*Additional tribute required to cover shipping outside the USA. Contact Me with your shipping city and country for the cost.
After purchase, make sure to follow the instructions within the video to contact Me: EmpressMika.com/contact
If you do not contact me, I will be unable to send you your item. If it has been over 7 days since your purchase, I will re-list the item for sale with the assumption you are no longer interested in obtaining the item.
Be sure to check out My full selection of items here: EmpressMika.com/store/worn-clothing/
Website: EmpressMika.com | Twitter: @YesEmpressMika
Train to be My Foot slave: FootSlave.EmpressMika.com
Your Empress commands you to use a markup code. Good boys obey.
Serve your Empress (+50%): ServeEmpress
Worship your Empress (+100%): WorshipEmpress
Be an Extra Good Boy for Empress (+200%): YesEmpressMika