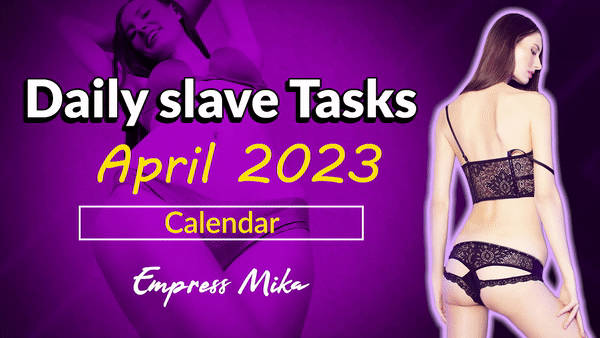 15.00
April 2023 Daily slave Tasks Calendar
I am so pleased to present My 2023 slave Task Calendar for the month of April! I know every submissive needs constant training and discipline to become the slave that I desire you to be for Me, and that is exactly what this calendar will provide you with. I can guarantee you that you will have no shortage of slave tasks to complete for Me this month.
Throughout April 2023, I am going to give you tasks and challenges that I have specially crafted to train and transform you into the submissive little slave that you've always dreamed of becoming for Me. Each day you will receive a new command from Me that is going to challenge you, educate you, tease you, train you, humiliate you, and, of course, reward you throughout the month. I have designed these tasks to condition your mind for servitude and test your dedication and devotion to Me.
I have chosen to embrace My heritage by using each of the 12 characters of the Chinese Zodiac for the themes of each month. As such, April's tasks are inspired by the Dragon. I have also included a photo of Me in the calendar so you can worship My flawless body while completing your slave tasks throughout the month.
This calendar is a must-have item for all My aspiring good boys and dedicated slaves. You owe it to Me, and yourself, to deepen your submission to Me this year by following each and every one of My unique slave tasks every single day.
If you obey all of My commands, I promise you will experience a whole new level of submission to Me, by experiencing all the unique pleasures that come from worshiping and serving Me. All you have to do is obey My every command and do as you are told. Are you ready to submit to Me? Purchase this calendar now and prepare yourself to embark on another month of slavery to Me.
You can purchase My full daily slave tasks calendar here: https://iwantclips.com/store/item/3619347
Website: EmpressMika.com | Twitter: @YesEmpressMika
Train to be My slave: SlaveTraining.EmpressMika.com
Your Empress commands you to use a markup code. Good boys obey.
Serve your Empress (+50%): ServeEmpress
Worship your Empress (+100%): WorshipEmpress
Be an Extra Good Boy for Empress (+200%): YesEmpressMika