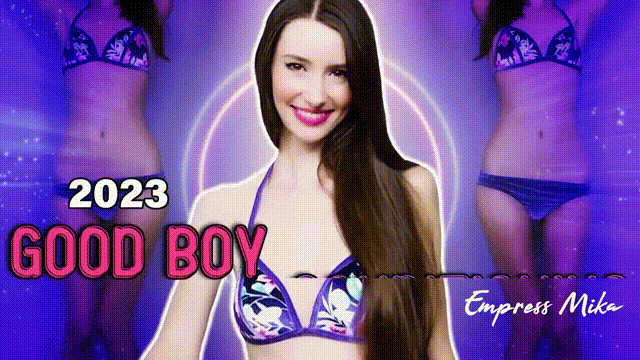 16.00
2023 Good boy Conditioning
Good boy. Those two, sweet, tantalizing words excite you so much, don't they? I know desperate little slaves like you live to hear Me whisper those words into your ear with My sexy, sensual voice. Those words fill you with so much excitement as they are a reminder of how pleased I am with you as My slave. Only My best submissives get the privilege of hearing Me call them a good boy.
I know the new year is already underway, but that doesn't mean it's too late to re-dedicate yourself to becoming a good boy for Me in 2023. In fact, you are going to make up for lost time and work even harder to be a good boy for Me this year. Doesn't that just fill you with so much excitement and anticipation for the year ahead? It better, slave, because you are going to make this year your best one for Me yet, by being My good boy.
To help guide you deep into your submissive headspace to become My good boy, I have created this visual audio to rewire your mind. Using My sensual voice and binaural beats, I am going to mesmerize you deep into submission and encourage the cravings you feel to sacrifice everything in service of becoming a better slave for Me this year. I am going to use My flawless body and tease you with My ass, pussy, tits, and gorgeous face to remind you how much you need to serve Me. Only by giving into Me fully and completely will you ever have a chance at truly experiencing the blissful pleasures that come with being one of My truly good boys. You are powerless to resist Me and you will get down on your knees and worship Me like a good boy.
You are going to re-dedicate yourself to serving and worshiping Me. Doesn't that sound wonderful? Every time you hear My sweet, sexy voice say *Good boy*, you are going to immediately feel your submissiveness to Me grow even stronger. It feels so good to hear those words, and each time you hear it, you are conditioned more and more, to serve Me. It feels so good because it is so right. By the end of O/our session, you will have no doubt left in your mind that you need to be My good boy for this new year, and will serve Me the best you ever have. After hearing *Good boy* from Me so much, you will be in such a state of submissive bliss. Servitude is bliss for My good boys and, after this session, you will be one of them.
* Please note this clip is a visual audio release that employs binaural beats and other audio effects to create a detailed sound environment. I have also carefully crafted an immersive and intense visual to accompany the audio track featured in this content. As such, I highly recommend using headphones and a dark room to fully enjoy this intense experience.
Audio-only MP3 version available here: https://iwantclips.com/store/10852/Empress-Mika/3808458/2023-Good-boy-Conditioning-Audio-MP3
* Experience My free, full-length audio, Give in to My Voice: EmpressMika.com/free-femdom-mesmerize-audio
Website: EmpressMika.com | Twitter: @YesEmpressMika
Train to be My slave: SlaveTraining.EmpressMika.com
Your Empress commands you to use a markup code. Good boys obey.
Serve your Empress (+50%): ServeEmpress
Worship your Empress (+100%): WorshipEmpress
Be an Extra Good Boy for Empress (+200%): YesEmpressMika